Craig of Auchindoir

Unknown extension tag "googlemap"



Location Information
Owner
private
NGR
NJ 47068 24826
Lon. & Lat.
57.310999,-2.880313
Council
Aberdeenshire
Parish
Auchindoir and Kearn
Nearby Castles
Lesmoir, Knockespock, Terpersie
Year built
1548
Overview map

Unknown extension tag "googlemap"



Craig of Auchindoir
Edit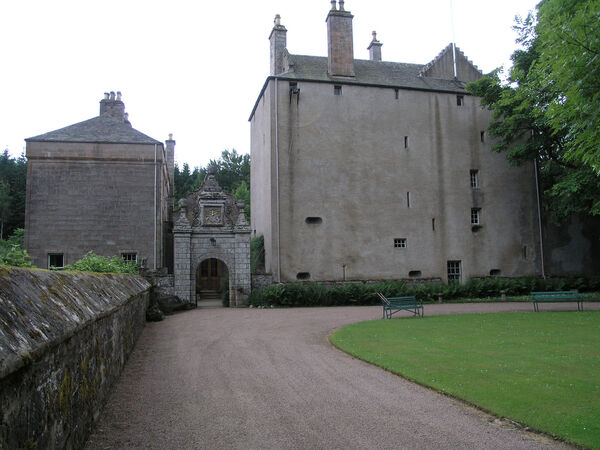 The Castle of Craig, or the Craig of Auchindoir as it was more anciently known, is located on the edge of Aberdeenshire's "wild west", between Lumsden and Rhynie, and is perched on the edge of a dramatic dean, or wooded ravine. It is of unusual design, the keep originally having a wall-walk, which was subsequently roofed over, leaving the crow-stepped gables sticking up through the roof line. The original castle was built on the L-plan, which, with the ornate gateway and more modern building alongside, form a courtyard. Perhaps due to its proximity to the wilder highlands to the west, the building is well provided with large and wide gunloops. The castle was built by the Gordons, the first Gordon of Craig being a grandson of the famous Jock O'Scurdargue, from whom so many Gordon families trace their ancestry. The Gordons held Craig from 1510 to 1892. The first laird is said to have died at Flodden and his grandson Patrick at Pinkie. His son was implicated in the murder of the Bonnie Earl of Moray. The last of the Gordon line, an heiress, was burned to death with her daughter at Nice in 1863!
Additional Images
Edit
Ad blocker interference detected!
Wikia is a free-to-use site that makes money from advertising. We have a modified experience for viewers using ad blockers

Wikia is not accessible if you've made further modifications. Remove the custom ad blocker rule(s) and the page will load as expected.