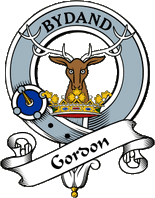 A note about the castles in this website:
Castles can range from giant fortress, to fortified house, to palaces. Originally when I began researching the castles of Clan Gordon I had no idea of the great number and variety I would find. I was also happily surprised at being able to find images of most of the castles, and in the case where a castle no longer stood; I have been able to find images of the surrounding land. When compiling the list of castles, I found many castles with claims to the Gordon Family, but in many instances could not verify the claims. All castles as listed have at least 2 solid sources to back up the claim. The pictures of the castles, as they now appear, in many cases would be unrecognizable to the Gordons that lived in them. Castles, like all buildings, undergo renovations, remodels, and demolitions. Keep in mind that what may exist today is nothing like it was originally.
A note about the Ordnance Survey Number:
To the right of each castle, is a map of it's location, followed by location information. NGR, is a number corresponding to the Ordnance Survey Grid of Great Britain. This number references the 1 km square grid that the site is located at. This number is invaluable in locating the exact castle and location within Scotland. Many castles in Scotland have duplicate names; this should help clear up any confusion as to which is the correct castle. Also included is the Lat. and Lon. of each castle for use with GPS systems.
Help Needed
There are many lands and places mentioned throughout Gordon history, including mentions of baronies and possible lairds houses associated with those baronies. Where possible I have added what information I have been able to obtain, but either exact location or strong reference to the Gordon family has not been attained. If you have good information on the below subjects, and could help fill out the information, it would be greatly appreciated.
Pages in category "Castle List"
The following 120 pages are in this category, out of 120 total.
A

B

C

D

D cont.

E

F

G

H

I

K

K cont.

L

M

N

P

R

S

T

U

W
Ad blocker interference detected!
Wikia is a free-to-use site that makes money from advertising. We have a modified experience for viewers using ad blockers

Wikia is not accessible if you've made further modifications. Remove the custom ad blocker rule(s) and the page will load as expected.