Aboyne

Unknown extension tag "googlemap"



Location Information
Owner
Granville Charles Gomer Gordon, 13th Marquess of Huntly
NGR
NO 52636 99558
Lon. & Lat.
57.083071,-2.784874
Council
Aberdeenshire
Parish
Aboyne and Glentanar
Nearby Castles
Loch Kinord, Blelack
Year built
12th C.
Overview map

Unknown extension tag "googlemap"



Aboyne Castle
Edit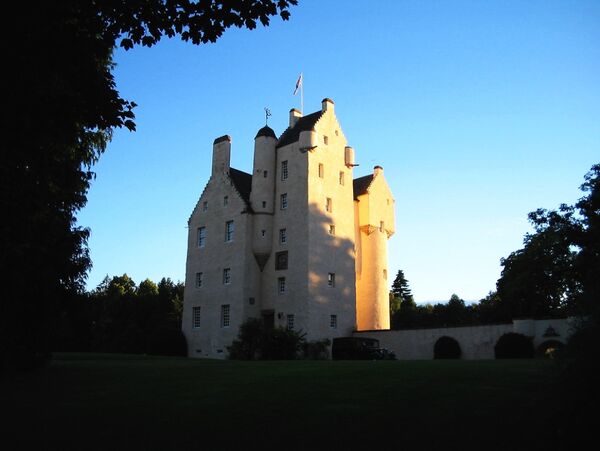 The Bissetts occupied a 12th century motte in this vicinity until they fell from power in 1242. Alexander III then used it as a hunting seat but there is no evidence it was rebuilt in stone and references to Coull during the Wars of Independence are thought to refer to Coull 3km to the NW. Aboyne was later held by the Knights Templars, the Frasers, and the Keiths, and in 1449 passed by marriage to the 1st Earl of Huntly, being subsequently used by younger sons of the chiefs. Now restored and with late 18th Century and late 19th century additions stripped away, the tall building close to the Dee north of the billage comprises a main block of four stories and an attic with a square wing with balustrade top at the NE corner and a round turret with a square caphouse at the NW corner. It probably mostly dates from c1600 but on the lintel of the entrance in the wing is the date 1671 and the initials of Charles Gordon and Elizabeth Lyon. Charles was the fourth son of the 2nd Marquess of Huntly and had recently been created Earl of Aboyne as belated thanks for helping to persuade General Monck to support the Restoration of Charles II in 1660. In 1836 George, 5th Earl of Aboyne, succeeded as Marquess after the death of the 5th Duke of Gordon. It was held by Sir William Cunliffe Brooks in the late 19th Century but now forms again a seat for the Earl of Aboyne, son of the Marquis of Huntly
Additional Images
Edit
Gordons of Interest article.
Ad blocker interference detected!
Wikia is a free-to-use site that makes money from advertising. We have a modified experience for viewers using ad blockers

Wikia is not accessible if you've made further modifications. Remove the custom ad blocker rule(s) and the page will load as expected.